It doesn't get more local than your own backyard. As we get closer to August, the tomato plants are starting to produce along with everything else. We've had a tumbler offering somewhere between a grape and cherry tomato for a while now. This week, our red olive grape tomato plant is offering up some beautiful little fruits. They're sweet with a touch of tart and perfect for pasta. I would have liked to add more of these beauties to the pasta, however, the grape tomato monster (also known as the husband) likes to snack on the ripe ones out of the bowl I keep them in. I can't blame them, they're super tasty.
Angel hair pasta with grape tomatoes, garlic, and sausage
1/2 lb angel hair pasta (I used whole wheat)
3 links hot Italian sausage links, out of their casings (I use turkey, trying to be healthy here)
2 tbsp plus 1/4 cup extra-virgin olive oil (divided)
1/4 chopped sweet onion (like vidalia)
5 cloves garlic, minced
grape tomatoes (or cherry, as many as you can put in there!)
salt
pepper
Boil water and cook pasta according to directions, drain, set aside and keep warm. Heat two tablespoons of olive oil over medium-high heat in a large saucepan/skillet, add Italian sausage and brown, breaking up as you go along. Remove sausage to paper towel-lined plate and set aside. Over medium heat, add 1/4 cup olive oil. Add onion and garlic, and saute until fragrant and softened, about 3 minutes. Add cherry tomatoes, cook 1 minute. Add sausage back in and warm for about another minute. Add cooked pasta back in, salt and pepper to taste and toss until coated. Serve immediately. Serves 4-5.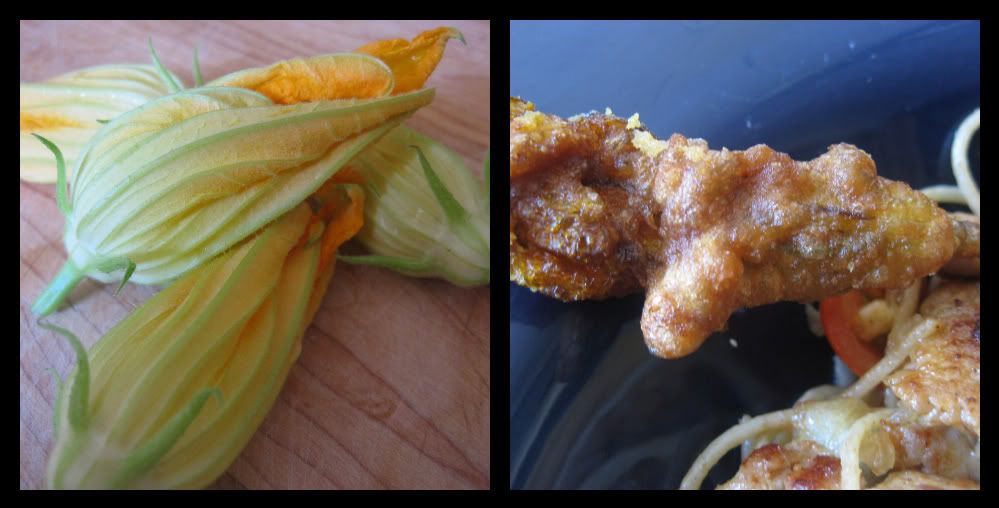 Ah squash blossoms. Hard to find, don't last long, but while they're here, oh-so-tasty. Luckily I'm growing zucchini and there's always plenty to go around so I'll grab some of the blossoms at least once a season to fry them up in a Virzi family favorite. I don't discriminate, male or female blossoms are fine. If you're wondering the difference, the female is attached to a growing zucchini, the male is just a flower attached to the stem. I get so many squash every year, and pick so few blossoms, I pick at random. Both, by the way, are edible. Wash them, dry them, and trim the stem up before you go ahead and fry them. Also, I read somewhere that needle nose pliers gets the pistil out well. It works and allows more room for whatever yummy cheese you stuff the blossom with. I winged this frying experience with various previous attempts in my head. This one was worthy enough to share with all of you.
Fried Squash Blossoms
15-20 squash blossoms
1 egg beaten lightly
1/4 bottle of beer (darker tastes better)
2 heaping tablespoons all-purpose flower
salt and pepper
enough small cubed monterey jack to fill your blossoms (ricotta works well here too)
vegetable oil
Wash, dry, trim, remove pistils of blossoms. Salt and pepper them. In a bowl, beat egg lightly, add 1/4 bottle of beer, the flour and a little more salt and pepper and whisk together. Stuff blossoms with cheese and dip in batter. Heat vegetable oil to frying temp (around 350 degrees or so) and dump blossoms in. Watch carefully and flip when they start to turn golden. Remove and put on paper-towel lined plate to catch the excess oil. Serve hot.