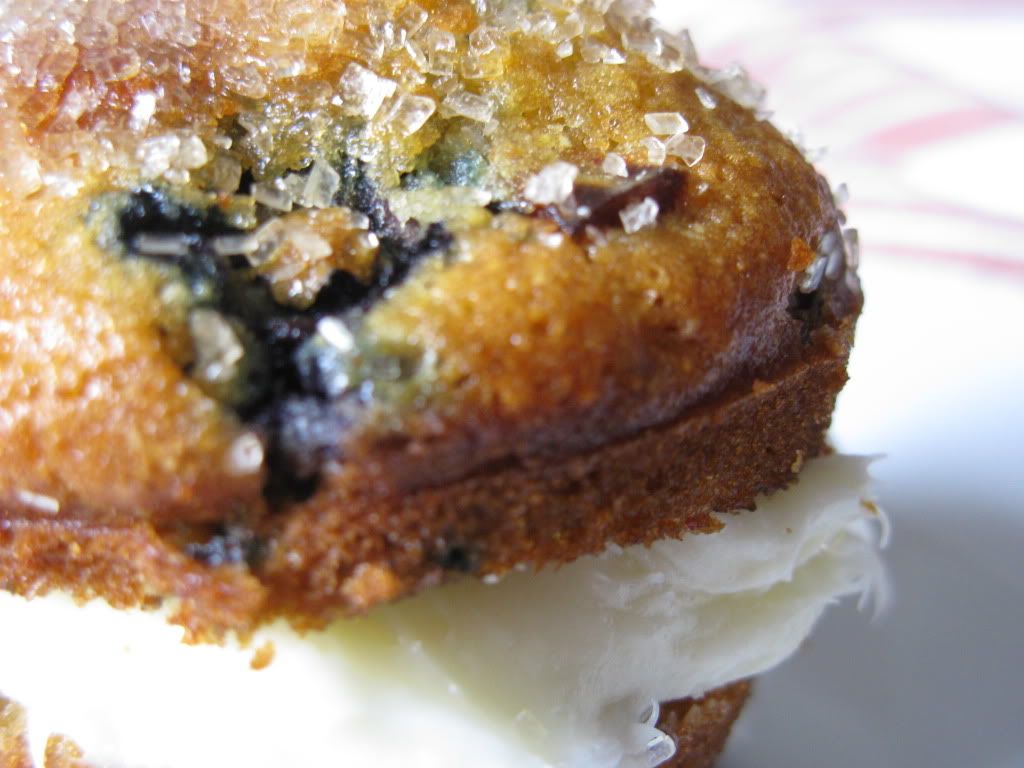 I love a whoopie pie. They're fun, simple and the options are endless. We've been eating through the rest of our camping stash all week, but I had some leftovers I knew I definitely wanted to use. I had the most fantastic sweet corn from the Dedham Farmers' Market. I wanted to use the leftover kernels for something, most likely cornbread.
However, I didn't want just cornbread. I wanted a bit more. I had blueberries frozen from blueberry picking season and a chunk of cream cheese in the fridge. I figured cornbread goes with cream cheese, right? So why not cream cheese frosting? It's among my favorite of frostings. I especially love it in a whoopie pie (see
pumpkin whoopie pies
).
Cornbread batter, however, is too runny out of which to shape little cakes. How to solve this conundrum? Why couldn't I make cute, rustic whoopie pies out of muffins instead? Thus the "muffin pie" was born. Couldn't you see these little guys after a big barbecue or maybe the final course at a brunch?
Needless to say, they're yummy and disappearing fast.
Corn and Blueberry Muffin Pies
Cakes
1 cup flour
1 cup cornmeal
2 tablespoons brown sugar
1/4 cup sugar
1 teaspoon baking soda
1/2 teaspoon baking powder
pinch salt
1 cup milk
1/4 cup vegetable oil
1/4 cup honey
2 eggs slightly beaten
2/3 cup blueberries
1/2 cup fresh corn kernels (optional)
2.5 tablespoons butter, melted
1/2 cup raw sugar
Frosting
1/2 stick butter, softened
4 oz cream cheese, chilled
1/2 teaspoon vanilla extract
1 cup confectioner's sugar
pinch salt
Preheat oven to 400 degrees.
Combine all dry ingredients through salt in one bowl. In another bowl, combine all ingredients (milk, oil, honey, eggs) through the eggs. Pour wet ingredients into dry and stir until combined. Stir in corn kernels and blueberries.
Pour batter into a greased muffin pan, filling each tin 3/4 of the way. You should have enough for the standard 12. Sprinkle tops with a little bit of raw sugar.
Bake about 15 minutes until tops are golden and a toothpick comes out clean. Allow to cool in pan for 10 minutes, and then take each muffin out to cool on a wire baking rack for another 15.
While they're cooling, make the frosting. Cream butter and cream cheese with a stand mixer or a handheld. Add vanilla and stir. Slowly add confectioner's sugar and pinch of salt while the mixer is set on low. Push mixer speed up to half and whip until it becomes frosting consistency.
Once muffins are cooled, melt the 2.5 tablespoons of butter in one bowl, and put 1/2 cup of raw sugar in another. Dip tops of muffins in the butter and then in the raw sugar to coat. Repeat for all muffins.
Take a bread knife and carefully cut each muffin in half, placing the tops aside. Put a dollop of the cream cheese frosting on each bottom and squish that frosting down with each corresponding top.
Voila, muffin cakes. This recipes makes 12 muffin cakes. Enjoy!